Osborn Brushes: Efficient and easy-to-use alternatives to everyday sandpaper 
Buffy Pad System: Easy & fast finish sanding after power washing & media blasting 
Cox North America Applicator Guns: Mechanical guns provides approximately double the life of other guns: Made in USA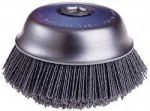 Made with heat stabilized nylon filaments impregnated with Silicon Carbide
Mess-free finish sanding and buffing; removal of rough bruises, pitch & wood pulp
Long lasting – one or two brushes will remove felting from an average 2000 sq. ft. home
Excellent for secondary prep/hand sanding;
Works on fuzzy or rough logs caused by power washing
Won't leave circular patterns like orbital sanders
Use with a variable speed grinder for a consistent finish every time (with a 5/8" arbor)

PLEASE NOTE: Brushes are rated up to 6,000 rpm Use operating speed of around 1,800 rpm. The slower speed will greatly prolong the life of the brush and also minimize the possibility of burning the logs . 
| Thumbnails | Products | Price | Variations | Action |
| --- | --- | --- | --- | --- |
| | | | | |
| | | | | |
BUFFY PAD - THREE PART SYSTEM:
1. Backer Pad (1 each per bag)
This BLUE & WHITE pad attaches to the 5/8 inch x 11 arbor (i.e., threaded end of the attachment shaft) of grinders and sanders, and holds the Grabber Pad. The rubber, tapered face allows the system to easily follow the contours of irregular wood surfaces.

2. Grabber Pad (10 pads per bag)
This BLACK & WHITE pad holds the Buffies and protects the expensive Backer Pad. Grabber Pads are used up at the rate of about 1 per every 10-20 Buffy Pads.

3. Buffy Pad (30 pads per bag)
The NON-WOVEN FABRIC pad that is pressed into the black plastic "T" hooks of the Grabber Pad - and twisted both ways to engage both legs of the hooks. (100-200 used for average home)
| Thumbnails | Products | Price | Variations | Action |
| --- | --- | --- | --- | --- |
| | | | | |
| | | | | |
| | | | | |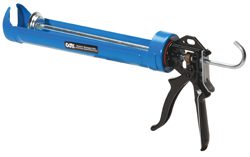 COX GUNS AND FOLLOWER PLATE:

COX North America, has established itself as the world's leading manufacturer of handheld sealant applicators by combining innovative design with excellent manufacturing standards and rigid quality management. (Made in USA)
| Thumbnails | Products | Price | Variations | Action |
| --- | --- | --- | --- | --- |
| | | | | |
| | | | | |
| | | | | |