SPAX Fasteners: Patented thread serrations that eliminate pre-drilling and dramatically increase installation speed. American Made.
Foam Tape: Provides a high performance seal against dust, light, air and moisture between the logs.
SPAX Log Fasteners:  Ultimate in heavy-duty log and timber fasteners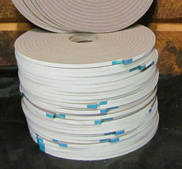 Foam Tape:  For sealing the joints of a log home creating an air tight seal.
Thumbnails
Products
Price
Variations
Action
Osborn Brushes, Caulk & Chink guns, Bulk Applicator and Follow Plate, Buffy System.