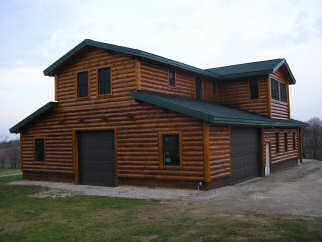 Available with Full Log Swedish Cope Saddle Notch Corners, $5.00-$7.00/Notch
Hand Hewn $ .60 to $1.20/LF, Depending on log size.
Vertical corners available or False Full Log corner.
Log lengths through 16' at NO additional cost.
Species available. Lodgepole Pine, Engelmann Spruce, Doug fir, Eastern White Pine, White Cedar, Red Cedar.
Call for pricing and availability.
Your Floor Plan or Ours - material take-offs available for quote
Prices subject to change without notice
| Size Log | Price/LF |
| --- | --- |
| 7" | $ |
| 8" | $ |
| 9" | $ |
| 10" | $ |
| 11" | $ |
| 12" | $ |
| 13" | $ |
| 14" | $ |